Metal Face Seals, Mechanical Face Seals, Toric Seals
Competitive range of quality products
Mechanical Face Seals are specifically engineered for rotating applications in extremely arduous environments where they withstand severe wear and prevent ingress of harsh and abrasive external media. A Mechanical Face Seal is also known as Heavy Duty Seal, Face Seal, Lifetime Seal, Floating Seal, Duo Cone Seal, Toric Seal , Mechanische Laufwerkdichtungen (German), Механични Челни Уплътнения (Bulgarian), 机械端面密封件 (Chinese), Mekaniske aksialtætninger(Danish), Mekaaninen otsatiiviste (Finnish), Joints d'Etanchéité Axiaux (French),Mechaniczne Uszczelnienie Czołowe (Polish), Juntas espejo (Spanish), Mekaniska Glidringstätningar (Swedish).

There are two different types of Mechanical Face Seals / Heavy Duty Seals.

Both types consist of two identical metal seal rings mounted in two separate housings face-to-face on a lapped seal face. The metal rings are centered within their housings by an elastomer element. One half of the Mechanical Face Seal remains static in the housing, while the other half rotates with its counter face.
Cast Alloy - High Chrome-Moly, Ni-Hard
Elastomer - NBR, NBR-LT, HNBR, Silicone, FKM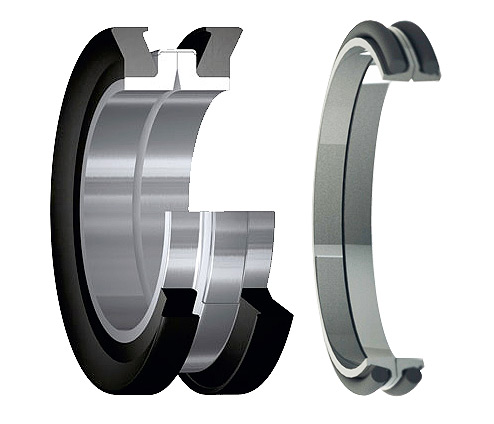 Cast Iron Version »
| | | |
| --- | --- | --- |
| SAPCI00510038020NB60 | SAPC101440125318NB60 | SAPC103280300038NB60 |
| SAPCI00510038020NB601 | SAPC101460127032NB60 | SAPC103410318038NB60 |
| SAPC100580045021NB60 | SAPC101460127031NB60 | SAPC103460318038NB60 |
| SAPC100590046020NB60 | SAPC115451355028NB60 | SAPC103540326030NB60 |
| SAPC106220048025NB60 | SAPC101570143027NB60 | SAPC136850340038NB60 |
| SAPC100700555022NB60 | SAPC101600143027NB60 | SAPC103750350038NB60 |
| SAPC100700555022NB601 | SAPC101670150028NB60 | SAPC103750355038NB60 |
| SAPC100700555022NB602 | SAPC101680154027NB60 | SAPC139440366038NB60 |
| SAPC100700555022NB603 | SAPC101680154027NB601 | SAPC139440366040NB60 |
| SAPC100730602020NB60 | SAPC101690154022NB60 | SAPC103980370038NB60 |
| SAPC100780064025NB60 | SAPC101690154022NB601 | SAPC104050382040NB60 |
| SAPC100800067020NB60 | SAPC101700154021NB60 | SAPC104150388038NB60 |
| SAPC108050063026NB60 | SAPC117150153028NB60 | SAPC141620388038NB60 |
| SAPC108240635032NB60 | SAPC101710146038NB60 | SAPC104570430038NB60 |
| SAPC100840071020NB60 | SAPC101720150040NB60 | SAPC145920430038NB60 |
| SAPC108650675318NB60 | SAPC117350154032NB60 | SAPC104800450050NB60 |
| SAPC100890685024NB60 | SAPC101800154038NB60 | SAPC104950465436NB60 |
| SAPC100920073032NB60 | SAPC118050165027NB60 | SAPC149720465436NB60 |
| SAPC109250795020NB60 | SAPC101890164030NB60 | SAPC105000470050NB60 |
| SAPC100980081028NB60 | SAPC119150163038NB60 | SAPC153340505436NB60 |
| SAPC101000079030NB60 | SAPC119440172318NB60 | SAPC153580505436NB60 |
| SAPC101000080029NB60 | SAPC101950176028NB60 | SAPC105480508060NB60 |
| SAPC101020083028NB60 | SAPC101990178032NB60 | SAPC105600530050NB60 |
| SAPC110450905026NB60 | SAPC102000177030NB60 | SAPC156680538436NB60 |
| SAPC101080088024NB60 | SAPC102050178038NB60 | SAPC105900559050NB60 |
| SAPC110950905032NB60 | SAPC102090192030NB60 | SAPC106080576436NB60 |
| SAPC101100091032NB60 | SAPC102100191028NB60 | SAPC106085815436NB60 |
| SAPC101110962024NB60 | SAPC121050182038NB60 | SAPC106230591050NB60 |
| SAPC101160097032NB60 | SAPC121650195318NB60 | SAPC106280596050NB60 |
| SAPC101170103020NB60 | SAPC122282087026NB60 | SAPC106950660053NB60 |
| SAPC101190100032NB60 | SAPC102270205030NB60 | SAPC107000667436NB60 |
| SAPC101200099028NB60 | SAPC122850200038NB60 | SAPC107000667050NB60 |
| SAPC101230107023NB60 | SAPC102370216030NB60 | SAPC107500718050NB60 |
| SAPC101250104028NB60 | SAPC123950220318NB60 | SAPC108010740080NB60 |
| SAPC101250107024NB60 | SAPC102410220025NB60 | SAPC108260770080NB60 |
| SAPC101280110032NB60 | SAPC125150223038NB60 | SAPC108360780080NB60 |
| SAPC101291145021NB60 | SAPC125970235038NB60 | SAPC108650817466NB60 |
| SAPC101380120032NB60 | SAPC102610238318NB60 | SAPC186550825048NB60 |
| SAPC101380120032NB601 | SAPC126280240038NB60 | SAPC108860834080NB60 |
| SAPC101390120318NB60 | SAPC126280242040NB60 | SAPC109410902060NB60 |
| SAPC113951185028NB60 | SAPC102700250030NB60 | SAPC109510890080NB60 |
| SAPC101400117029NB60 | SAPC128050252038NB60 | SAPC109760920080NB60 |
| SAPC114070127025NB60 | SAPC102880262040NB60 | SAPC110851030080NB60 |
| SAPC101410127029NB60 | SAPC102930265038NB60 | SAPC111051044080NB60 |
| SAPC101410127029NB601 | SAPC103030275038NB60 | SAPC112361175080NB60 |
| SAPC101410127029NB602 | SAPC132470300038NB60 | SAPC114251372080NB60 |
| SAPC101420120038NB60 | SAPC103250300038NB60 | |
Steel Version »
| | | |
| --- | --- | --- |
| SAPC100920073032NB60 | SAPC118050165027NB60 | SAPC149720465436NB60 |
| SAPC109250795020NB60 | SAPC101890164030NB60 | SAPC105000470050NB60 |
| SAPC100980081028NB60 | SAPC119150163038NB60 | SAPC153340505436NB60 |
| SAPC101000079030NB60 | SAPC119440172318NB60 | SAPC153580505436NB60 |
| SAPC101000080029NB60 | SAPC101950176028NB60 | SAPC105480508060NB60 |
| SAPC101020083028NB60 | SAPC101990178032NB60 | SAPC105600530050NB60 |
| SAPC110450905026NB60 | SAPC102000177030NB60 | SAPC156680538436NB60 |
| SAPC101080088024NB60 | SAPC102050178038NB60 | SAPC105900559050NB60 |
| SAPC110950905032NB60 | SAPC102090192030NB60 | SAPC106080576436NB60 |
| SAPC101100091032NB60 | SAPC102100191028NB60 | SAPC106085815436NB60 |
| SAPC101110962024NB60 | SAPC121050182038NB60 | SAPC106230591050NB60 |
| SAPC101160097032NB60 | SAPC121650195318NB60 | SAPC106280596050NB60 |
| SAPC101170103020NB60 | SAPC122282087026NB60 | SAPC106950660053NB60 |
| SAPC101190100032NB60 | SAPC102270205030NB60 | SAPC107000667436NB60 |
| SAPC101200099028NB60 | SAPC122850200038NB60 | SAPC107000667050NB60 |
| SAPC101230107023NB60 | SAPC102370216030NB60 | SAPC107500718050NB60 |
| SAPC101250104028NB60 | SAPC123950220318NB60 | SAPC108010740080NB60 |
| SAPC101250107024NB60 | SAPC102410220025NB60 | SAPC108260770080NB60 |
| SAPC101280110032NB60 | SAPC125150223038NB60 | SAPC108360780080NB60 |
| SAPC101291145021NB60 | SAPC125970235038NB60 | SAPC108650817466NB60 |
| SAPC101380120032NB60 | SAPC102610238318NB60 | SAPC186550825048NB60 |
| SAPC101380120032NB601 | SAPC126280240038NB60 | SAPC108860834080NB60 |
| SAPC101390120318NB60 | SAPC126280242040NB60 | SAPC109410902060NB60 |
| SAPC113951185028NB60 | SAPC102700250030NB60 | SAPC109510890080NB60 |
| SAPC101400117029NB60 | SAPC128050252038NB60 | SAPC109760920080NB60 |
| SAPC114070127025NB60 | SAPC102880262040NB60 | SAPC110851030080NB60 |
| SAPC101410127029NB60 | SAPC102930265038NB60 | SAPC111051044080NB60 |
| SAPC101410127029NB601 | SAPC103030275038NB60 | SAPC112361175080NB60 |
Cast Iron Version »
| | | |
| --- | --- | --- |
| SAPC1L01200094025NB60 | SAPC1L62500485256NB60 | SAPC1L02382135274NB60 |
| SAPC1L01410115028NB60 | SAPC1L00650045022NB60 | SAPC1L02640239034NB60 |
| SAPC1L01580132031NB60 | SAPC1L00760056021NB60 | SAPC1L02650225040NB60 |
| SAPC1L01611425024NB60 | SAPC1L00800060024NB60 | SAPC1L02652357030NB60 |
| SAPC1L01720148029NB60 | SAPC1L00900076017NB60 | SAPC1L02820256030NB60 |
| SAPC1L02180192032NB60 | SAPC1L00930735020NB60 | SAPC1L03190283034NB60 |
| SAPC1L02380201036NB60 | SAPC1L01040088019NB60 | SAPC1L03530319036NB60 |
Steel Version »
| | | |
| --- | --- | --- |
| SAPF1L01090875175NB60 | SAPF1L00590042020NB60 | SAPF1L01950169033NB60 |
| SAPF1L11150875019NB60 | SAPF1L00620047020NB60 | SAPF1L02071777029NB60 |
| SAPF1L11250094024NB60 | SAPF1L00650505019NB60 | SAPF1L21430193031NB60 |
| SAPF1L01130092024NB60 | SAPF1L00730054022NB60 | SAPF1L21450194031NB60 |
| SAPF1L01200099175NB60 | SAPF1L00730585019NB60 | SAPF1L02240198035NB60 |
| SAPF1L01230099019NB60 | SAPF1L00800586196NB60 | SAPF1L02590233035NB60 |
| SAPF1L01240105244NB60 | SAPF1L00810635019NB60 | SAPF1L26050228041NB60 |
| SAPF1L01260104024NB60 | SAPF1L08620067020NB60 | SAPF1L27352415036NB60 |
| SAPF1L13320114026NB60 | SAPF1L08620068020NB60 | SAPF1L03030275036NB60 |
| SAPF1L01380114026NB60 | SAPF1L00870067025NB60 | SAPF1L03050283042NB60 |
| SAPF1L01440124032NB60 | SAPF1L09170067020NB60 | SAPF1L35250320040NB60 |
| SAPF1L01560133028NB60 | SAPF1L09280738020NB60 | SAPF1L03920355396NB60 |
| SAPF1L01681485324NB60 | SAPF1L00970077025NB60 | SAPF1L04700442041NB60 |
| SAPF1L01750150030NB60 | SAPF1L00990074020NB60 | SAPF1L05300492043NB60 |
| SAPF1L01800154036NB60 | SAPF1L01000825022NB60 | |
| SAPF1L01800158018NB60 | SAPF1L10150817020NB60 | |
Details of Mechanical Face Seal
#
PARAMETERS
DESCRIPTION
SPECIFICATIONS
1
Material
Metal Seals - Forged by Ring Rolling ProcessCast Alloy By Centrifugal, Investment Castings. Rubber Rings – O Rings
Steel-100Cr6 Alloy Cast Iron Ni-Hard NBR/HNBR/Silicon/Viton
2
Hardness
Through Hardened and Tempered in controlled atmosphere. Fine tempered Marten site Microstructure.
60-63 HRc Forged Steel
65- 70 Hrc Cast Iron
3
Sealing Surface Flatness
Within 3 light Bands of Optical Interference of Monochromatic Light.
1~3 Micron Max
4
Sealing Surface Roughness
Polishing Attained By Lapping Process.
< 0.5Rt
5
The Dual Cone Angle
Specially Designed Ramp angle profile with Higher Grip texture to hold the O rings firmly.
8-15-20 Degree
6
Operating Speed
With Oil With Grease
10 Meter/Sec Max
3 Meter/Sec Max
7
Pressure/Load Bearing Capacity
3 Bars Max