Manufacturing Process
Centrifugal Casting
Ni-Hard Cast Iron
Precision Machining
CNC Turning
Precision Lapping
Spherical, Flat & Finish Lapping
Compression Rubber Molding
NBR,HNBR, NBR-LT, FKM, Silicon.
Precision Grinding
Centerless, Bore, Surface Grinding
Heat Treatment
Hardening Tempering- Cryogenic Treatment. Induction Hardening, Carburizing, Gas Nitrating, Laser Treatment, Plug Quenching
Surface Treatments
Shot Blasting, Amorphous Phosphating, CED Coating, MOS2 Coating, WS2 Coating, Zn Passivation.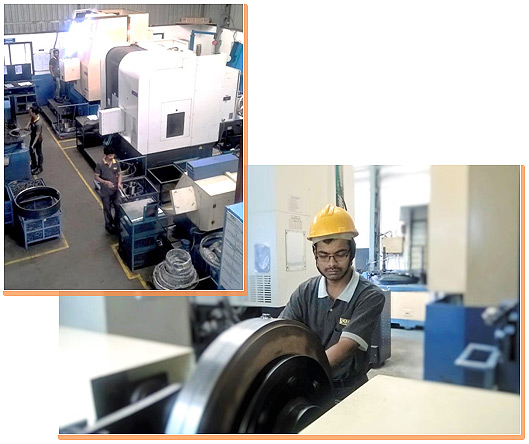 Innovative Technologies
Innovation is the USP of SAP Parts. Moreover it is our core value and we intend to proactively employ innovative thinking culture in all our operations.
The Sealing Solutions Delivered by SAP Parts Involves a high end research and patented technology warranting the highest performance and application sustainability of Mechanical Face Seals at:
Max 10 M/s Surface Speed.
Most Severe Environmental Situations.
At SAP Parts, we continuously effort to pioneer developments that create competitive advantage with our parts. Our innovation plan and actions are in close collaboration with our suppliers, customers and human resources in order to meet the variable needs of customers, from time to time.

Ongoing Technological Developments (Due For Patent )
Max 10 M/s Surface Speed.
Model for Contact Surface Wear Life Prediction.
Elastomeric Variable Load Stress Relaxation Modeling.
Innovative Surface Treatments for Demanding Applications.
Innovative Surface Treatments for Demanding Applications.
Functional Conformance of Metallurgical Properties of Ni-Hard Cast Alloys & Sealing Surface Asperities in Abrasive Environment.